Pediatric Scoliosis Bracing
At Prisma Health, our team of bracing experts has successfully treated juvenile and adolescent idiopathic scoliosis for more than 20 years. We focus on our patients and their family as they adjust to this often challenging time of life.
Scoliosis assessment and shape capture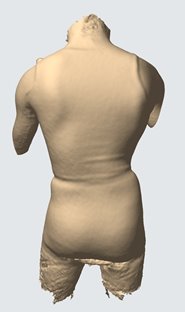 Our initial evaluation appointment is set for one hour. This appointment occurs after a referral from a pediatric orthopedics specialist. Information specific to the patient is gathered as we begin to establish our relationship with both the patient and parents or caregivers. Bracing goals and processes are explained in an open discussion where questions are encouraged. Measurements are taken by hand, and then a three-dimensional scan of the patient's torso is obtained. The spine is also assessed for rotation, flexibility and overall balance.
Bracing options
We utilize a variety of research-supported bracing options. Bracing can be prescribed as full-time or night-time depending on factors specific to each patient.
Full-time bracing
Boston Brace Original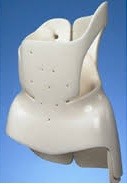 The Boston Brace was created in the 1970s and is still setting the standard for scoliosis treatment today. The Boston Brace Original is the most-studied and -utilized scoliosis brace on the market and is clinically proven to control curve progression.
The Boston Brace is used to treat lumbar curves, thoracic curves, thoracolumbar curves or a combination of these curves. It has options for lining and opening styes. The standard brace comes with a posterior opening because this option typically delivers the best results. The brace is custom-made from a scan or cast, hand measurements and an X-ray. Further customization takes place at the fitting.
Boston Brace 3D
The Boston Brace 3D was developed from the Original Boston Brace and is our preferred full-time brace. It combines knowledge of the three-dimensional scoliosis curvature with the latest in shape capture and CAD/CAM technologies.
Scoliosis has a three-dimensional structure. The Boston Brace 3D orthosis works to correct the spine in each of these dimensions or planes – coronal, sagittal, and transverse. Each brace has uniquely shaped and placed shift, push, and relief features based on the patient's curvature and body type. These carefully placed forces move the spine into a corrected position. The relief features provide space for rotational correction and breathing mechanics.
Like the Boston Brace Original, hand measurements and a three-dimensional scan or cast are taken of the patient to create a custom CAD/CAM model. These data along with a systematic analysis of the X-ray produce a custom-made highly effective brace.
Night-time bracing
Providence Brace
The Providence Brace is a hyper corrective orthosis that is worn at night to treat idiopathic scoliosis. This orthosis has advantages because of its effectiveness in treating scoliosis and its enhanced ease of compliance among adolescent patients. The Providence Nocturnal Scoliosis System combines the precise grid coordinates of the patented measuring board, hand measurements and utilization of a CAD/CAM system to effectively establish consistent spinal modification strategies.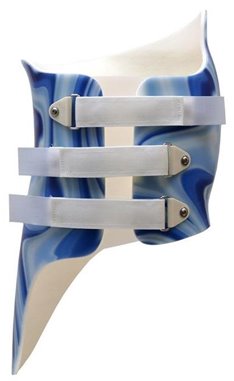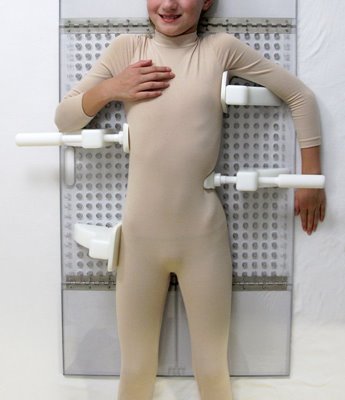 The Providence Nocturnal Scoliosis System aggressively corrects the scoliotic curves while the patient sleeps. It is often effective for obese, juvenile and neuromuscular patients. It can be used to treat a single curve or a double curve.
Boston Brace Night Shift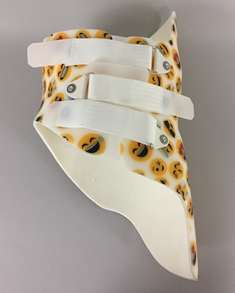 The Boston Brace Night Shift has built-in correction in all three planes of motion. Since gravity is not affecting the curves while lying down, the internal pushes do not have to work as hard as with full time braces.
The brace applies direct, opposing forces to straighten curves. It does not over correct the spine but brings the curves into balance. This brace can be used to wean out of a bracing program, or as the primary treatment option. The brace is custom fabricated from measurements, a three-dimensional scan or cast and an X-ray.
Fitting of the brace and ongoing follow-up
The fitting appointment is a thorough appointment during which the brace is trimmed and adjusted for the most comfortable fit possible. Instructions are provided for proper donning, doffing, care and cleaning and breaking in of the brace. A follow-up appointment is set for two weeks after fitting. A second follow up may be needed based on the results of an in-brace X-ray. Further follow ups are set at regular intervals to ensure on going fit and function. New braces are often required as the patient grows.
Patient compliance
Bracing success is directly linked to adherence to the prescribed brace wear schedule. To help patients and families with this task, a wear time monitor can be added to the brace. The monitor records wear time and a report can be generated to track progress.