Sports Nutrition and Body Composition
Know how to fuel yourself
A training program isn't complete without a balanced diet to fuel athletes and ensure enough energy for competition. Our sports nutrition program is designed to help individuals learn how and when to eat to achieve their maximum performance.
Working with our certified sports dietitian at Apex Athletic Performance, you'll learn what to eat and drink on high-performance days – and how to eat when training is minimal. We offer group nutrition classes and one on one appointments based on your needs.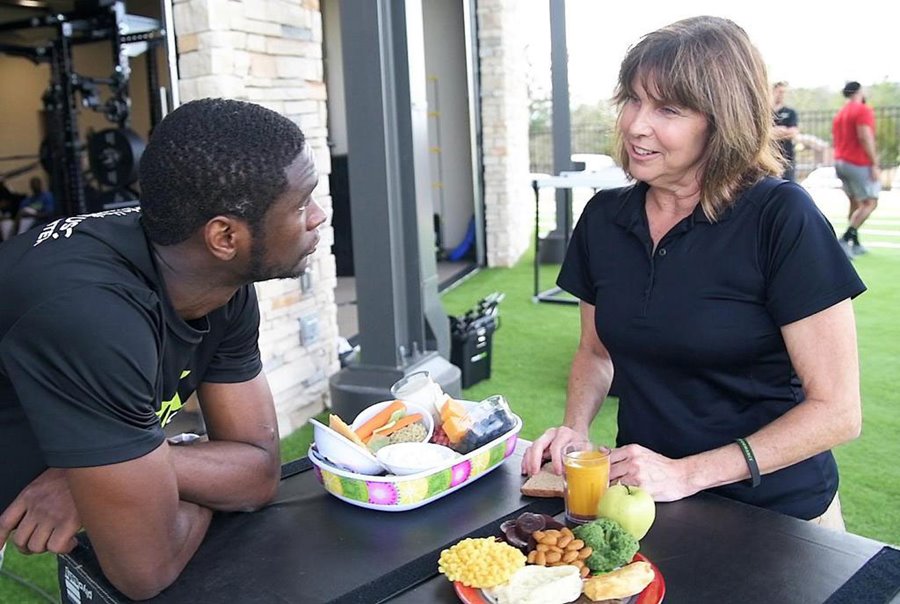 Nutrition appointments
An individualized sports nutrition plan that matches the athlete's training is essential in order to achieve training adaption, optimal health and peak performance. Our sports dietitian focuses on research and evidence-based recommendations that athletes can easily put into practice.
The first nutrition assessment appointment is one hour and includes review of medical history, current nutrition habits, nutrition knowledge and your goals. You will receive a personalized nutrition plan and an InBody body composition analysis. To schedule an appointment, contact Lisa Money.
---
---
Our sport-specific analysis includes:
We review sport-specific hydration protocols to recommend appropriate sports drinks or regimens for each athlete, including soccer, football and lacrosse.
We utilize the latest nutrition science research to minimize muscle loss during injury recovery, and our advanced body composition equipment helps to keep athletes informed throughout rehabilitation.
Assessing diet and body composition to minimize muscle loss after injury
Improving energy levels for workouts
Increasing protein bioavailability for strength training
Speeding recovery time
Minimizing injury risk from being under-fueled
Improving overall performance
For more information, call us at 803-296-9202 or contact Lisa Money.
Classes
All Apex classes can be used to attend performance training classes or a nutrition class.
– Performance training classes
– Foundation class (initial assessment for all new clients)
– Foundation Fueling class
– Other nutrition classes
Class all-inclusive package:
Apex Advantage Package
3-month training package includes 8 performance training classes a month and a 30 minute monthly one on one nutrition visit that covers body composition, nutrition education, and customized meal planning.
$160/month
Sign up »
Class packages:
Single class
$25
Sign up »
Package of 10 classes (expiration is 4 months from start date)
$225
Sign up »
Package of 20 classes (expiration is 4 months from start date)
$300
Sign up »
Group classes:
Nutrition group class (up to 25 participants)
$160
Sign up »
Group class with cooking demonstration (includes food for up to 25 participants)
$250
Sign up »
Nutrition appointments:
Assessment (initial visit)
$80
Sign up »
Follow-up consults:
– 1 visit
$60
Sign up »
– 4 visits for 1 month
$220
Sign up »
– 2 visits a month for 3-month contract (bank draft)
$108/month
Sign up »