Patient Testimonials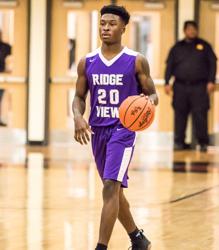 Ja'von Anderson
Ja'Von Anderson is a senior dual-sport athlete who plays football and basketball at Ridge View High School in Columbia, South Carolina. When he isn't on the field throwing touchdown passes for the Blazers or on the court contributing to state championship plays, Ja'Von is in the gym working to improve his skills.
Ja'Von has been training at Apex for almost four months and the Apex staff says he is "highly motivated and very dedicated to his craft." When asked how he feels about going to Apex, Ja'Von said, "I love Apex; the coaches there know a lot and have your workout planned for you, and the workout is effective. I can see the results when I am playing and when I am moving."
Ja'Von's father encourages him daily to take advantage of all the workouts Apex coaches have set for him in order to get better in both basketball and football. Ja'Von is always hard at work to be able to compete at the next level.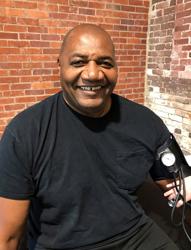 Clifford Barrett
In January, Clifford Barrett will celebrate 38 years as a Richland County deputy sheriff. At the age of 61, Clifford is hoping to improve his health, lose weight and increase his flexibility. Recently, as part of a program with Richland County, Clifford completed Real Age Assessment, a comprehensive fitness assessment. Clifford believes his experience at Apex will help him reach his fitness goals.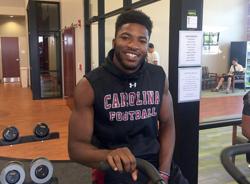 Matrick Belton
Matrick Belton, a 2016 graduate of the University of South Carolina, saw firsthand the difference that Apex Athletic Performance made in his football career at USC. After graduating from Keenan High School and playing football for two years at Hampton University in Virginia, Belton made his way back home to Columbia and walked onto the football team. Even as a walk-on, Belton graduated having made five starts and played in 21 games. "I improved as an all-around athlete, and my pro days were what I was aiming for," he said.
"Apex is a positive environment where I'm free to work. It's more technical, and they focus on details and one-on-one training more than anywhere else I've trained." In the future, Matrick hopes to use his physical education degree to become a football coach.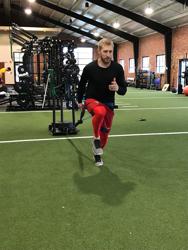 Tanner English
Former University of South Carolina Gamecocks baseball player Tanner English now plays professionally in the Minnesota Twins organization. Tanner is an outfielder who spent last season with the Chattanooga Lookouts in Chattanooga, Tennessee, and he trains at Apex Athletic Performance in the offseason. His favorite part about training at Apex is the environment and the coaches.
"Apex's coaches are great – they push to me to my highest potential and the facility is second to none!"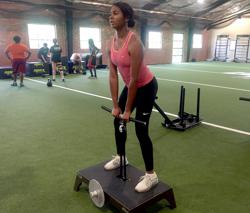 Colleen Finney
Colleen Finney, a rising sophomore volleyball player at Blythewood High School, has been training at Apex since December 2016. With an offer from Wofford as well as interest from multiple SEC programs, she has already seen the improvement in her game and her body. "Apex trains me based on the sport I play, allowing me to build muscle in the places that are going to help me succeed on the court," said Colleen. "As I continue to push towards D-I volleyball, I know Apex will continue to make me stronger. By the time I'm at the collegiate level, I'll be prepared for that intensity of training."
Despite the success she's experienced as such a young player, Colleen knows that she has room to improve and looks forward to the challenges ahead.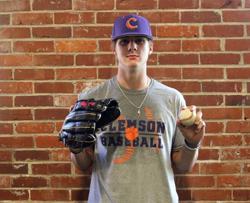 Garret Gainey
Garrett Gainey, a junior baseball player at Hartsville High School, suffered a torn labrum in January 2017. After nine months of weekly rehab and performance training at Apex, he's focused on making this season his best one yet.
A left-handed pitcher and first baseman, Garrett has been on the diamond since he was 3 years old. After his injury, he knew that working with former All-American pitcher Brian Wiley at Apex was going to not only help him return to full strength, but improve his game as he pursues his dream of playing at the Division I level.
"My favorite part of training at Apex is how hard they push me," said Garrett. As baseball season approaches, he's ready to show colleges such as Clemson and Coastal Carolina just how much his hard work has paid off. Following an injury, Garrett is ready to bounce back, and he chose Apex to help make it happen. "Why wouldn't you come to the best?" he said.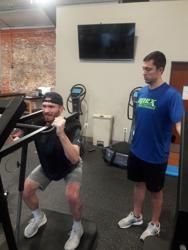 Daulton Halfacre
Daulton Halfacre is a basketball player who has been playing professionally in Spain for the last two years.
"Unlike other gyms I've been to that highlight only strength training, Apex tailors the training to my body shape and my sport-specific needs. Not only have I been able to gain strength through my Apex workouts, but I've also gained speed and improved my agility."
Daulton has worked closely with strength and conditioning specialist Jonathan Ashworth and sports dietitian Lisa Money. He credits Lisa's meal planning as a "game-changer." By improving his overall diet and being more conscious about foods he was consuming, he saw improvements in his performance.
"At Apex, it's personal. The coaches are always here, watching me and helping me reach my goals. I really feel like they care about me."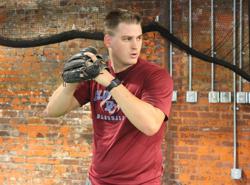 Bud Jeter
Bud Jeter, a graduate of Dreher High School in Columbia, attended Presbyterian College before being drafted in the 25th round of the 2013 Major League Baseball draft by the Arizona Diamondbacks. Jeter has made it to the AA level as a right-handed pitcher and is currently training at Apex as he looks to continue his ascent towards the MLB.
"There's a common misconception that pitchers aren't athletes," said Bud. "With Apex, I'm going to become a more explosive athlete – which will translate to my pitching. There's also so much equipment that can measure how explosive I am and the progress I'm making."
Having known the Apex trainers, Bud knew that Apex would be a good fit. "I chose Apex off of their track record," he said. "I love the atmosphere here. I want to fulfill my childhood dream of making it to the majors. Hopefully Apex will help me achieve that."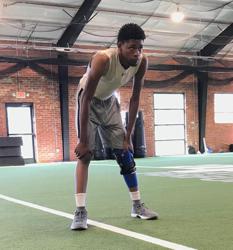 Kamorey Stinson
Kamorey Stinson is a senior basketball player at Richland Northeast High School in Columbia, South Carolina.
Kamorey tore his anterior cruciate ligament (ACL) last December in a basketball game, and had surgery with sports medicine physician S. Wendell Holmes Jr., MD, at Prisma Health Orthopedics. He has now progressed to rehab at Apex. He works diligently with the staff at Apex, along with his athletic trainers at Richland Northeast.
"This has been a very challenging process. It's been hard to not get frustrated or want to give up; however, I know this process has made me a better person."
While he is not fully cleared to go back onto the basketball court, Kamorey is working hard and headed in the right direction!
Call to Schedule
803-296-9202