Prisma Health Tuomey Hospital appoints new physician executive
GREENVILLE, S.C.—Scot Dilts, MD, has been named Physician Executive for Prisma Health Tuomey Hospital and serves as a member of the executive leadership team.
Dilts is replacing Gene Dickerson, MD, who is retiring administratively. Dr. Dickerson will remain active with the medial staff and maintain a part-time surgical practice.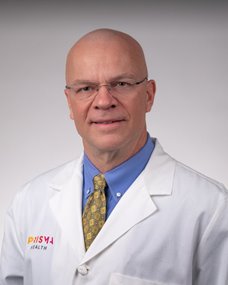 Dilts comes to this leadership role with significant clinical and administrative experience and deep knowledge of the hospital, organized medical staff and the Sumter community. Since joining Tuomey Hospital in 1998, Dilts has worked in multiple medical leadership roles, most recently as chief of staff. This vacated chief of staff position has been assumed by Rosey Gilliam, MD, a physician with Prisma Health Cardiology in Sumter.
Among Dilts' accomplishments is his role as a founding member in 1999 of the local, affiliated emergency medicine group, Midlands Emergency Physicians, PA, which continues to serve patients at Tuomey Hospital.
Dilts is a fellow of the American College of Emergency Physicians. He is a graduate of the Medical College of Ohio (Toledo) and completed his residency in emergency medicine with the St. Vincent Medical Center/Toledo Hospital Emergency Medicine Residency program. He is also an alumnus of University of Akron in Akron, Ohio.
About Prisma Health
Prisma Health is a not-for-profit health company and the largest healthcare system in South Carolina. With nearly 30,000 team members, 18 acute care and specialty hospitals, 2,947 beds, approximately 300 outpatient sites, and nearly 5,000 employed and clinically integrated network physicians and providers, Prisma Health serves more than 1.2 million unique patients annually in its 21-county market area that covers 50% of South Carolina. Prisma Health's goal is to improve the health of all South Carolinians by enhancing clinical quality, the patient experience and access to affordable care, as well as conducting clinical research and training the next generation of medical professionals. For more information, visit PrismaHealth.org.