Prisma Health successfully implants first NeuRx Diaphragm Pacer device in South Carolina
Patient has been discharged and now is recovering at home
COLUMBIA, S.C.— Prisma Health has completed a successful surgical implantation, the first in South Carolina, of a unique device that will significantly improve the quality of life for a patient who experienced a life-changing spinal cord injury. The NeuRx Diaphragm Pacer was implanted in a patient who had sustained significant cervical spine injuries in an automobile accident. Tevin Johnson, a Sumter native, underwent surgery at Prisma Health Richland Hospital and recently has been discharged from the hospital.
The device specifically helps rebuild the strength of the diaphragm and allows the patient to breathe without the assistance of a ventilator, making basic actions like eating, drinking and speaking possible for the patient. In addition to high cervical spinal cord injury patients, NeuRx Diaphragm Pacer may have potential to help other neuromuscular disorders affecting the diaphragm.
"We are profoundly grateful for the successful restoration of some of Tevin's most important freedoms and abilities through this innovative technology," said Alejandro Luis, MD, the trauma medical director. "Drs. Christopher Watson and Jacob Hessey performed an incredible feat that can give hope to other individuals who may be facing lifelong injuries."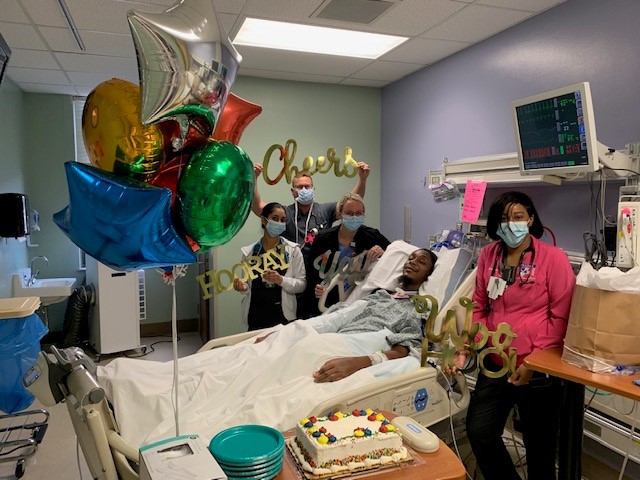 After Johnson suffered injuries in a car accident in November 2020, Watson and Hessey implanted the device in late December 2020. In early January, Johnson was removed from his ventilator and since that time, has been able to speak, eat and drink – all actions that would not be possible if he continued to rely exclusively on a ventilator. Other significant benefits of the device include more flexible living arrangements and reduced risk of infections.
Johnson, said, "I cannot express how grateful I am to the team for giving me back some of the freedom and comfort that I would not have had. Dr. Watson and Dr. Hessey have enabled me to experience small joys in an otherwise challenging future."
About Prisma Health
Prisma Health is a not-for-profit health company and the largest healthcare system in South Carolina. With nearly 30,000 team members, 18 hospitals, 2,947 beds and more than 300 physician practice sites, Prisma Health serves more than 1.2 million unique patients annually. Its goal is to improve the health of all South Carolinians by enhancing clinical quality, the patient experience and access to affordable care, as well as conducting clinical research and training the next generation of medical professionals. For more information, visit PrismaHealth.org.