Prisma Health expands Cancer Institute to Columbia
COLUMBIA, S.C.—The Prisma Health Cancer Institute, originally based in Greenville, has expanded to offer new clinical facilities in Columbia to provide advanced specialty care for patients in the Midlands region. The Cancer Institute takes a multidisciplinary approach to treating cancer as a complex group of diseases that require consultation among surgical oncologists, medical and radiation oncologists, diagnostic radiologists, pathologists and other cancer specialists.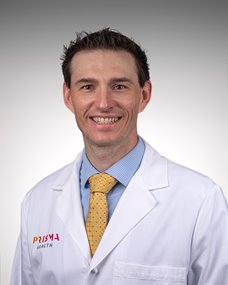 "We are deeply committed to providing a full spectrum of cancer care to our patients across the Midlands area and are pleased to offer increased opportunities for this skilled care right here in our community," said Michael Haughton, MD, chief of medical oncology and hematology of Prisma Health in the Midlands. "The creation of a multidisciplinary team is critical to provide care that is not only patient and family convenient but is now proven to be a care model that improves cancer survival."
Prisma Health in the Midlands has cared for cancer patients for a long time. However, Prisma Health Cancer Institute, which is affiliated with the National Cancer Institute (NCI), brings the Midlands area new offerings in early detection and diagnosis, cancer prevention, access to advanced treatment options and optimization of cancer survival support. The Prisma Health Cancer Institute has been a foremost leader in the provision of vital cancer clinical trials of the NCI and other national research networks.
The location is also directly linked to Prisma Health's Institute for Translational Oncology Research which gives providers the advanced ability to actualize and classify tumors and offer access to "precisely personalized" clinical trial options.
"This expansion to the Midlands will allow us to offer enhanced specialty and subspecialty expertise and robust clinical trial opportunities as part of the Prisma Health network," said Larry Gluck, MD, medical director of Prisma Health Cancer Institute. "Often, an NCI or innovative pharmaceutical clinical trial is the best option at some point in a patient's cancer journey, whether at initial diagnosis or in the event of recurrence; this center gives us additional opportunities to integrate those trials with our patient's care."
The Commission on Cancer (CoC), a program of the American College of Surgeons, has also granted accreditation to Prisma Health Cancer Institute's oncology program in the Midlands. To earn this accreditation, a cancer program must meet 34 quality care standards, be evaluated every three years and maintain levels of excellence in the delivery of comprehensive patient-centered care.
The Prisma Health Cancer Institute in Greenville is a CoC-approved Academic Comprehensive Cancer Program and provides clinical services including surgical, gynecologic, pediatric, medical and radiation oncology. Offerings include an accredited bone marrow transplant program, a comprehensive breast health program, integrated oncology and survivorship programs, multidisciplinary centers and nurse navigators.
For more information on Prisma Health's Cancer Institute or to find a location in the Upstate or Midlands, visit PrismaHealth.org/Cancer.
About Prisma Health
Prisma Health is a not-for-profit health company and the largest healthcare system in South Carolina. With nearly 30,000 team members, 18 hospitals, 2,947 beds and more than 300 physician practice sites, Prisma Health serves more than 1.2 million unique patients annually. Its goal is to improve the health of all South Carolinians by enhancing clinical quality, the patient experience and access to affordable care, as well as conducting clinical research and training the next generation of medical professionals. For more information, visit PrismaHealth.org.