Prisma Health and patients celebrate 50th anniversary of milestone research legislation with National Cancer Institute
GREENVILLE, S.C.—In celebration of the 50th anniversary of the National Cancer Act, which greatly expanded research capabilities of the National Cancer Institute (NCI), nine Prisma Health patients worked with the National Cancer Institute to bring awareness to the benefits of participating in clinical trials during their cancer treatment. As a community site for the NCI Community Oncology Research Program (NCORP), it is the Prisma Health standard to search for a clinical trial for every patient that could potentially improve the quality of their lives. One of these patients, La'Tory Jemison, has participated in two clinical trials and credits them for improving the quality of her life.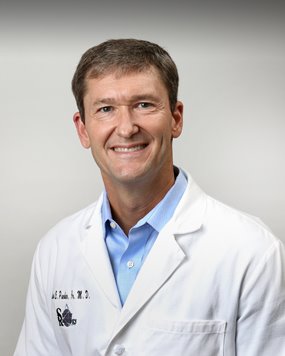 In December 2019, La'Tory had just come home from a field trip with her daughter when she began experiencing pain in her abdomen. Her pain became so extreme that she was rushed to the emergency room where doctors ordered a CT scan, then an ultrasound that revealed a large tumor positioned around one of her ovaries. She was scheduled for surgery with Jeffrey Elder, MD, gynecologic oncologist, and during the procedure another surprising discovery was made. The team found that La'Tory's tumor had actually grown from her colon, not her ovary. The large size of the tumor had shadowed the colon in her initial ultrasound. With this discovery, the team knew they needed a different treatment approach.
Through the early phase oncology research program, La'Tory's team of doctors found an option for her involving an oral drug taken in conjunction with her standard chemotherapy. La'Tory agreed to participate in the trial, and for more than a year responded positively to the treatment method. Unfortunately, because of her chemotherapy she began experiencing neuropathy—a common side effect of chemotherapy that causes pain, numbness and tingling in the hands and feet. These symptoms worsened as her chemotherapy treatments continued, and her doctors set out to find an option to help manage her pain.
After more than a year of treatment under her first clinical trial, La'Tory's cancer spread to her other ovary. She was scheduled for a second surgery, also performed by Dr. Elder. Shortly after, her doctors became aware of a clinical trial that could potentially ease the pain she was experiencing from her neuropathy by using a transcutaneous electrical nerve stimulation (TENS) unit. La'Tory was more than willing to participate if it meant her neuropathy symptoms would decrease, and for six weeks she wrapped a TENS unit on alternating legs for five hours per day. While doing so she took detailed notes for researchers and responded to questionnaires. After six weeks of the trial, La'Tory was given a TENS unit to keep in her home permanently and still uses it to help manage her pain.
"I participated in clinical trials for my children. They have made many adjustments since my diagnosis, and I am willing to try anything if it means they will get the opportunity to participate in the activities they love. In my opinion, the potential rewards outweigh any risks, and I trust that the team at Prisma Health and those at the National Cancer Institute have my best interests at heart," said La'Tory.
Prisma Health was one of 50 healthcare organizations across the country to receive a grant from the NCORP in 2014 to serve as a site for cancer clinical trials and care delivery studies. Through this grant they are able to bring state-of-the-art research in cancer treatment and symptom control to patients in the Upstate.
"With support from the National Cancer Institute, we are able to offer the same level of care and resources that elite medical centers across the country are able to provide," said Mark O'Rourke, MD, medical oncologist. "Whether studying new treatments or ways to manage symptoms and improve the quality of life, our patients are contributing research that will forever change the way we approach and treat cancer. While they are receiving the benefits today, they are also benefiting the generations that will come after them."
About Prisma Health
Prisma Health is a not-for-profit health company and the largest healthcare system in South Carolina. With nearly 30,000 team members, 18 hospitals, 2,947 beds and more than 300 physician practice sites, Prisma Health serves more than 1.2 million unique patients annually. Its goal is to improve the health of all South Carolinians by enhancing clinical quality, the patient experience and access to affordable care, as well as conducting clinical research and training the next generation of medical professionals. For more information, visit PrismaHealth.org.