Prisma Health recognizes September as Brain Aneurysm Awareness Month
Man's life saved by the dedication of the Prisma Health Richland Hospital neurosurgery team
On June 5, Columbia native Robert Lentz noticed he had blurred vision, prompting him to see his family doctor. A CT scan revealed that Lentz had suffered a brain bleed, and his doctor ordered him to get to the ER immediately.
Lentz was checked into the Neuroscience Intensive Care Unit (NSICU) at Prisma Health Richland Hospital, where a team led by Roham Moftakhar, MD, chair of neurosurgery at Prisma Health–Midlands and medical director of Palmetto Health-USC Neurosurgery, conducted a number of tests.
"His case was extremely complex," said Moftakhar. "His bleed was on one side of the brain, and then we discovered through testing that he had another aneurysm. It was close to the bleed but not the cause of the bleed. The aneurysm had to be repaired because of the size and location."
A cerebral aneurysm is a bulging or "ballooning" in the wall of a blood vessel in the brain. If an aneurysm grows, it can rupture and lead to bleeding in the bran. A burst aneurysm is an extremely dangerous condition and requires immediate medical attention. It can be fatal in about 40 percent of cases. Of those who survive, about 66 percent suffer some permanent neurological damage.
Moftakhar determined the best way to treat Lentz was open brain surgery in order to clip and secure the aneurysm.
"After being in the NSICU for two days, I really didn't know whether I was going to come home or not," recalled Mr. Lentz. "But I had faith in the Lord and I knew we had the best team. They set my surgery for August 6. On that day they clipped the brain aneurysm and – this is kind if amazing – I went home two days later."
---
"I've got my life back."
Robert Lentz was being treated for a bleed in his brain when another unruptured brain aneurysm was discovered.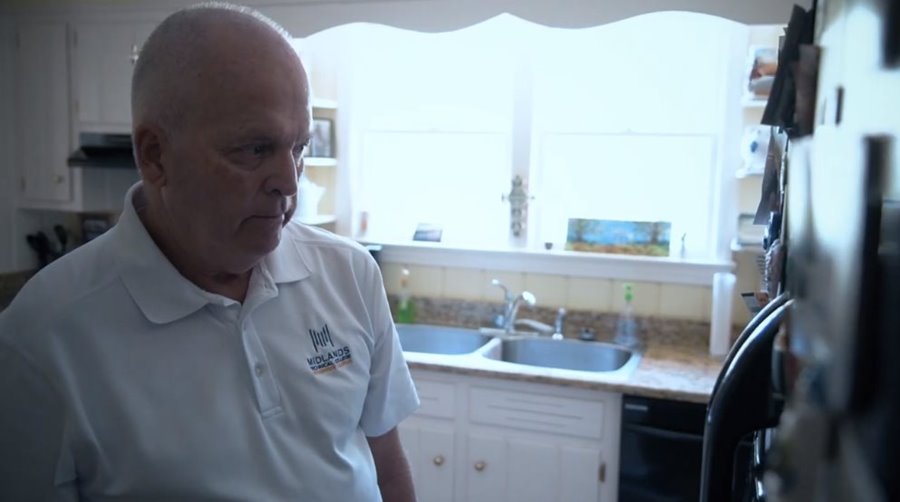 ---
Moftakhar believes that others can be helped if they receive treatment quickly. That is one of the reasons Prisma Health wants to bring awareness to September as National Brain Aneurysm Awareness Month. The neurosurgeons of Palmetto Health-USC Medical Group want the public to be aware of this potentially dangerous condition, its signs and symptoms and where to get immediate medical attention.
According to the Brain Aneurysm Foundation, around 6 million people in the United States have an unruptured brain aneurysm. That is about 1 in 50 people. Conversely, about 30,000 people in the United States suffer a brain aneurysm rupture every year.
Prisma Health Richland Hospital has a team that provides 24/7 coverage for the intervention or surgical treatment of aneurysms from a dedicated team of neurosurgeons, neuroendovascular surgeons, stroke neurologists, technologists and nurses who specialize in these conditions.
"Years ago we had to open up the brain, and the patient was in the hospital recovering for weeks," said Moftakhar. "Now, except for extreme cases such as Robert Lentz, we no longer have to open up the skull. After surgery, patients are left with only a small dressing in the groin area. Most can go home the next day, and they can get back to work in just a few days in cases when the aneurysm has not ruptured. It's amazing that our technology and expertise have progressed so much that we can offer such advanced technology to improve our patients' lives."
There isn't anything a person can do to prevent a brain aneurysm, but it's important to know the signs. Some of the stroke-like symptoms include:
A sudden, severe headache.
Nausea.
Vomiting.
Face or eyelids drooping.
Numbness in the arms, legs or one side of the body.
Loss of consciousness.
"If any of these happen," said Moftakhar, "call 911 and have them take you to the nearest hospital."
If you or someone you love has been affected by a brain aneurysm or arterioenous malformation (AVM), the Joe Niekro Foundation holds a support group 6-8 p.m., the third Thursday of every month, at Prisma Health Children's Hospital, Derrick room, 7 Richland Medical Park Dr., Columbia. For more information, contact Mary Pat Baldauf at ColumbiaSC@JoeNiekroFoundation.org.
For more information about Prisma Health-USC Neurosurgery, call 803-434-8323