Prisma Health begins construction at new Larry Winn, MD, Cancer Care Unit at Baptist Easley Hospital
GREENVILLE, S.C.—Prisma Health recently celebrated the beginning of construction at a brand-new cancer care unit at Baptist Easley Hospital, named for longtime area physician, Larry Winn, MD. The $1.9 million project will provide a patient-centered experience, delivering all levels of infusion capability and supportive care within Pickens County, removing the burden of traveling out of the area for treatment.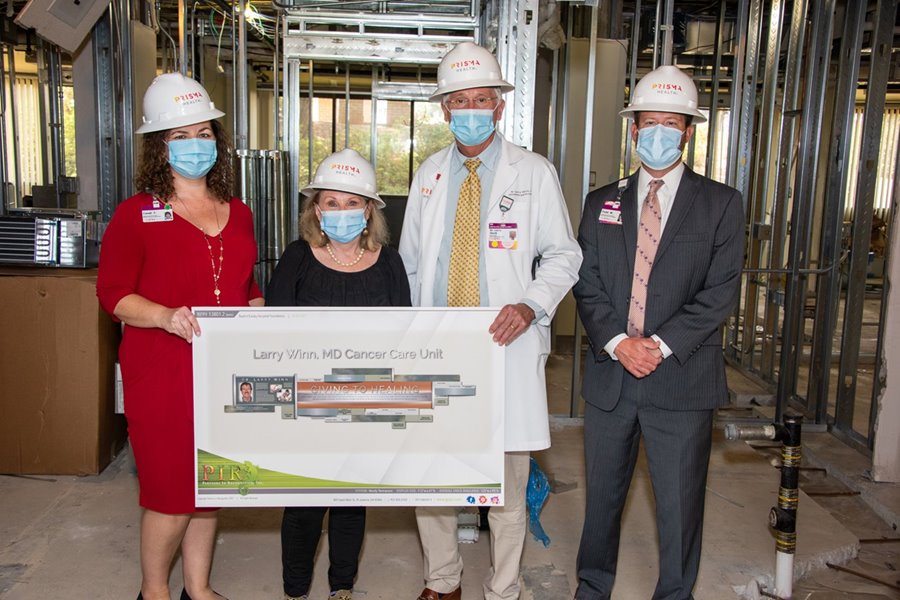 "This is an important moment in the fight against cancer in Pickens County. It's important because we've all been affected by this disease in one way or another. The Larry Winn, MD, Cancer Care Unit will provide a way to care for our neighbors in their greatest time of need," said Todd Walker, Prisma Health Baptist Easley Hospital CEO.
The new Larry Winn, MD, Cancer Care Unit is a renovation and addition to the existing hospital's administration suite, expanding to 6,700 square feet. In addition to expanded office and clinical space, the Winn Cancer Care Unit will include:
A state-of-the-art cancer infusion area
7 examination rooms
12 separate infusion spaces
Infrastructure for the clinic
The new unit will be headed by a Prisma Health oncologist assisted by a nurse navigator who will work together to treat, support and guide patients at every point through their cancer journey. The facility will offer other oncologic specialties, including the ability of cancer surgeons to consult and perform follow-up evaluations with patients onsite.
"We were the first blood and cancer doctors to open a practice in Easley at our office on Richards Street. The Prisma Health Winn Cancer Care Unit is a revalidation of our vision to provide the best care to the patients of this region in an excellent facility with the least amount of travel and inconvenience," said W. Larry Gluck, MD, Prisma Health Cancer Institute Medical Director.
"My husband would often comment how fortunate this community is to have such an outstanding medical facility. Because of Dr. Winn's dedication, loyalty, and love for his God, family, medicine, and for this hospital and community, I am so blessed, honored, proud, and humbled to name this new addition to Prisma Health Baptist Easley Hospital," shared Wraellen Winn, widow of Dr. Winn.
The Baptist Easley Hospital Foundation has raised more than $1 million of its $1.3 million goal, thanks to the support of members of the Pickens County community, including the Winn family. For additional information about ways to support the project, interested parties can contact Candi Forester-Smith with the Prisma Health Baptist Easley Foundation at 864-442-7617.
About Prisma Health
Prisma Health is a not-for-profit health company and the largest healthcare system in South Carolina. With nearly 30,000 team members, 18 hospitals, 2,947 beds and more than 300 physician practice sites, Prisma Health serves more than 1.2 million unique patients annually. Its goal is to improve the health of all South Carolinians by enhancing clinical quality, the patient experience and access to affordable care, as well as conducting clinical research and training the next generation of medical professionals. For more information, visit PrismaHealth.org.