The Family Birthplace at Prisma Health Oconee Memorial Hospital
Having a baby is an extraordinary experience. At Prisma Health Oconee Memorial Hospital, you'll find a special environment designed to make your labor and delivery one of the most memorable experiences of your life.
Our skilled, supportive doctors and nurses make every family's childbirth experience as rewarding as possible. We understand that every family and every birth is unique. So, in addition to superb medical care, you'll also receive the nurturing, personalized care you deserve at this special time. The Family Birthplace provides the expertise and technology to give the newest member of your family the best start in life.
The Family Birthplace virtual tour
We're a designated a Baby-Friendly hospital
Prisma Health Oconee Memorial Hospital is designated as a Baby-Friendly hospital, which means we promote breastfeeding through rooming-in, encouragement of skin-to-skin contact, and lactation support. Our internationally board-certified lactation experts can provide the encouragement and support you need to learn to breast-feed successfully, and our childbirth educators will answer any questions you have about caring for your little one once you return home.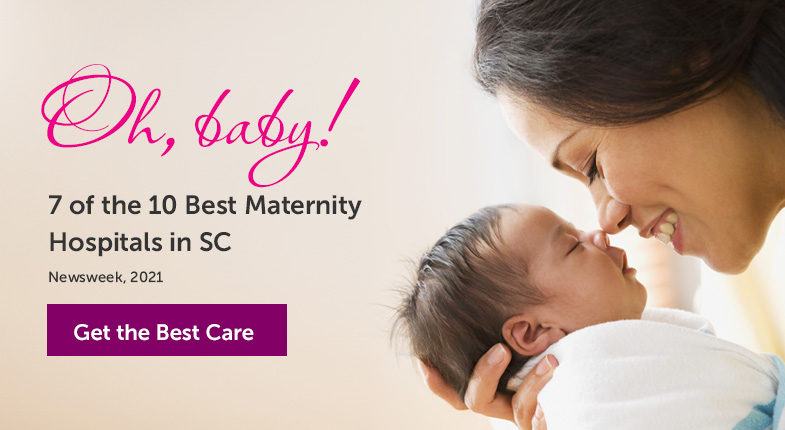 Extra care
Sometimes babies need additional care and may be placed in our nursery, a highly skilled unit. With our staff of expert nurses and doctors, babies receive one-on-one care in the nursery. At times, premature or sick babies need to be stabilized at Prisma Health Oconee Memorial Hospital and transferred to another facility. As a part of Prisma Health, we have access to the Level III Bryan Neonatal Intensive Care Unit at Prisma Health Children's Hospital–Upstate. Using special mobile equipment and a trained team, babies are transported safely to receive the care they need.
Additional touches
After delivery, a celebratory meal for two is provided for the new parents by Fresh Inspirations Café. Parents can choose a steak, chicken cordon bleu or other meal of their choice as our way of helping celebrate the arrival of a new life. In addition, every maternity patient on a regular diet has the option of ordering room service at any time during their stay. Popular breakfast items include omelets, biscuits and gravy and other traditional breakfast foods while lunch and dinner menu options include hamburgers, hot dogs, sandwiches and more.
Education and preparation
Throughout each stage of your pregnancy, labor, delivery and postpartum care, we will work closely with you and your family. You and your family members may participate in our array of childbirth education classes offered by our Wellness Center covering prenatal care, childbirth, physical recovery and breastfeeding.
We invite you to visit The Family Birthplace at Oconee Memorial Hospital to learn more about our facilities and caring, supportive staff.
Our services and features
Board certified OBGYN doctors
Celebratory meal for two provided after birth
Certified obstetrics nurses
Cesarean section operating room conveniently located nearby
Childbirth classes offered at Wellness Center
Electronic monitoring allows doctors and nurses to track health of mother and baby remotely
High level of security with restricted access, video surveillance and infant protection system for your peace of mind and safety
Latest monitoring equipment
Mothers remain in the same room throughout birthing experience and "room-in" with her newborn
Newborn nursery, for assessment of well babies and care of sick babies
Overnight in-room accommodations for support person
Same nurses who care for patients during delivery or c-section are the same team that care for the patient after delivery
Access to Prisma Health Children's Hospital–Upstate Level III NICU to transport and care for premature or very sick newborns
Spacious and comfortable rooms designed for labor, delivery, recovery and postpartum care
Staff trained in neonatal resuscitation
Ready to see an OB/GYN who's right for you?
Our team is equipped to handle all situations with care and compassion. We have the technology and equipment to provide you and your baby with the best care, and we're here for you every step of the way – from prenatal care to childbirth classes to delivery and beyond.