The Birthplace at Prisma Health Baptist Hospital
The Birthplace at Prisma Health Baptist Hospital serves pregnant women, new mothers and their babies with compassionate care and advanced technology to provide for their educational, spiritual and emotional needs. We promote a family-centered environment where each member of the family feels important. We strive to exceed our patient's expectations while offering an exceptional labor and delivery experience.
The Birthplace virtual tour
We're a designated a Baby-Friendly hospital
Prisma Health Baptist Hospital is designated as a Baby-Friendly hospital, which means we promote breastfeeding through rooming-in, encouragement of skin-to-skin contact, and lactation support. Our internationally board-certified lactation experts can provide the encouragement and support you need to learn to breast-feed successfully, and our labor and delivery educators will answer any questions you have about caring for your little one once you return home.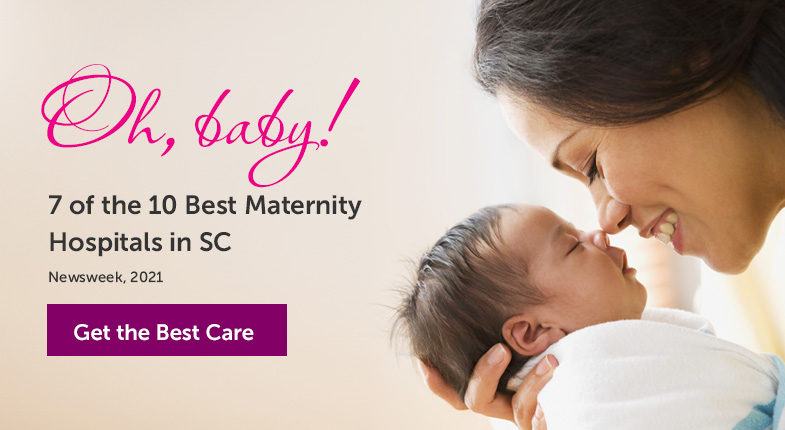 Our features and services
Prisma Health Baptist Hospital Women's and Neonatal Services has five distinct units to care for mothers and their babies:
The Birthplace includes labor, delivery, a surgical suite, a high-risk obstetrics unit and a recovery unit. Spacious, private birthing rooms feature birthing beds where mothers labor and deliver their babies.
Neonatal Intensive Care is designed to care for the special needs of infants of all gestational ages using the latest technology, including ventilators and specialized monitors.
The Family Place provides care to patients before and after childbirth, as well as female surgery patients.
The Nesting Place provides mother/baby couplet care, allowing mother and baby to stay in the same room. One nurse cares for mother and baby in beautifully decorated couplet-care rooms that emphasize the special needs of a new mother.
Obstetrics Emergency Department is a unit comprised of triage, observation and an inpatient high-risk perinatal room. This area is designed to safely care for sick mothers with obstetric complaints and mothers in labor prematurely.
Lactation Services
Breastfeeding your baby is very important. Studies have shown that a breastfed baby has a shorter hospital stay, less risk of infections, decreased IV nutrition and improved feeding tolerance. Prisma Health provides inpatient care for all nursing mothers throughout Women's and Neonatal Services. The program also includes outpatient lactation services follow-up appointments for intervention and support of nursing mothers by an internationally board-certified lactation consultant.
Call our breastfeeding helpline
Have a question about lactation? Our lactation specialists are available via our helpline and will gladly coach you through any breastfeeding troubles or concerns. Call 803-296-5379.
Neonatal Intensive Care Unit (NICU)
Some babies are born prematurely or need special care due to respiratory difficulties, infections, birth defects or other illnesses. Prisma Health Baptist Hospital has a Level III Neonatal Intensive care Unit (NICU) to care for these critically ill babies. Our caring and compassionate medical professionals at NICU will nurture your baby and provide the best treatment options, information, and support for your family. Our NICU features:
Private rooms with sleeper sofas so parents can stay in the room with their baby.
Caring teams led by a neonatologist, a pediatrician who has completed advanced training in caring for sick or premature infants who require complex medical attention.
Specially trained staff backed by the most advanced technology.
Lactation consultants to assist moms in their desire to provide breastmilk for their preterm or critically ill baby.
A weekly support group for parents of NICU babies to help them through this difficult time.
When the medical team tells you it's safe, you may choose to use "Kangaroo Care" as part of your bonding process. Kangaroo Care is skin-to-skin contact, with your baby placed right against your chest. Clinical research suggests that recovery time is shortened with Kangaroo Care and babies are able to leave the hospital sooner.
Ready to see an OB/GYN who's right for you?
Our team is equipped to handle all situations with care and compassion. We have the technology and equipment to provide you and your baby with the best care, and we're here for you every step of the way – from prenatal care to childbirth classes to delivery and beyond.