Breanna's story
Breanna's story
I'm part of this organization because there's so much caring and creative energy everywhere! The opportunities are limitless. I began as a tech in the emergency trauma center while in nursing school. Now I'm fulfilling my dreams as an ICU nurse. Prisma Health has helped me grow professionally through nursing shared governance, clinical nurse leadership and nursing research opportunities. I'm currently working on my advanced nursing degree with mentoring from nurse leaders.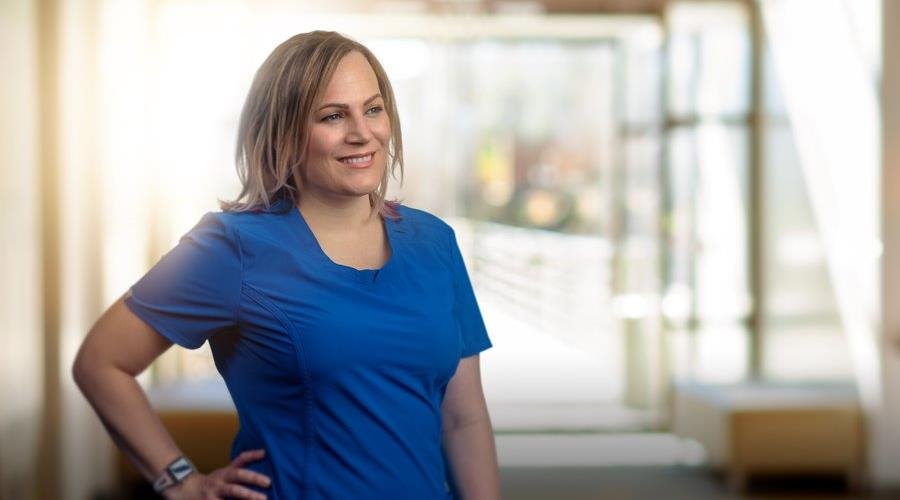 I love taking care of patients and their family members. The best part of my job is being part of an amazing interdisciplinary team. I know we provide safe, top-quality care which includes the latest advancements, equipment and high-acuity treatments.
We're honored when patients entrust us with their care. Beyond the treatment provided, we offer patients and their families comfort and reassurance. During what often is a major life event, we're welcomed into their family. They may not remember all the medical terms, but they remember how we made them feel. I've experienced life-saving advanced critical care treatment myself as a patient, so I know what a difference it makes to feel safe in a caring environment. I feel so fortunate to be able to have a career that I absolutely love.
Our commitment to South Carolinians
As the state's largest healthcare employer and a locally owned private non-profit, we invested nearly $180 million in competitive salaries and benefits for some 30,000 team members in the last two years alone. We raised our minimum wage to $14/hour, increasing the standard of living for many of your neighbors and relatives who, in turn, spend money to benefit local economies.
Over the last year, 157 doctors and 111 advanced care practitioners joined our medical group of 2,700 employed clinicians who are focused on your health and wellness. And they don't do this alone — 2,300 independent providers work with us at our 12 acute care and six specialty hospitals. We advance the quality of care across the state together.
What's more, through our Community Engagement commitments, Prisma Health invests in numerous local not-for-profit organizations, local businesses, public health initiatives and outreach programs to improve the quality of life for all South Carolinians. We work with Habitat for Humanity to provide families access to stable housing and the National Alliance on Mental Illness to address the rising mental health crisis among our citizens. Our support of the March of Dimes, the YMCA and the Urban League has resulted in millions of dollars to provide care for mothers and babies, drive youth development, and empower African Americans and others to achieve their highest human potential, ultimately improving the quality of life in the communities we serve.
With more investments in the people of South Carolina and more providers — both employed and independent — we're doing even more to help you be your healthiest you.
By the numbers
Statistics
As a locally owned, not-for-profit health organization, Prisma Health is committed to clear communication about our impact.
Greenville Health Authority Report
2020 Report to the Greenville Health Authority.
Community Outreach Programs Report
A Certificate of Public Advantage Report by Prisma Health in the Midlands