Practices
Roadmap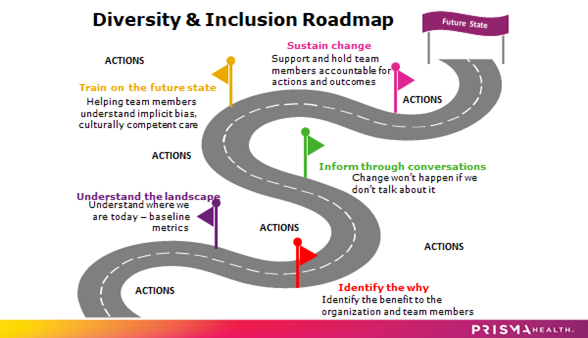 The Office of Diversity and Inclusion applies and uses various methodologies to strengthen and sustain a culture of inclusion and belonging.
We strive to develop and follow fair and equitable organizational practices, including:
Be a place where physicians want to practice and people want to work and receive healthcare.
Establish behavior expectations as guiding principles for who we are and how we behave as Prisma Health team members. Examples include "respect and appreciate others" and "learn and grow."
Create a safe environment to have open dialogue, learn and grow.
Ensure all team members are encouraged to reach their full potential.
Be an equal opportunity employer: Prisma Health does not discriminate on the basis of race; color; national origin; religion; age; sex; physical, mental or other disability; medical condition; sexual orientation; gender identity; gender expression; pregnancy; social, cultural or educational background; ancestry; marital status; citizenship; or veteran status.
Offer culturally and linguistically appropriate services in accordance with the U.S. Department Health and Human Services: We offer free language services interpreters and written information in various formats, for people with disabilities. We provide language assistance services, including translated documents and oral interpretation, to people whose primary language is not English. All services are timely and offered for free. Those needing these services should call Language Services at 864-455-7000.
Measure and track progress towards a more diverse and inclusive workforce.
Provide culturally competent care.
Recruit and develop a diverse workforce to care for our community.
Showcase and spotlight our team members, patients and community through inspirational stories, lived experiences and worldviews.
Work with diverse suppliers.
Educate
Educate leaders and team members on diversity and inclusion standardized definitions:
Diversity: Recognizing and respecting individual attributes as a unique collection of differences and commonalities.
Equity: The quality of demonstrating fairness and impartiality.
Inclusion: A culture where every individual is embraced, engaged and invited to contribute fully to the organization.
Belonging: An experience where one's identity is accepted, valued and affirmed.